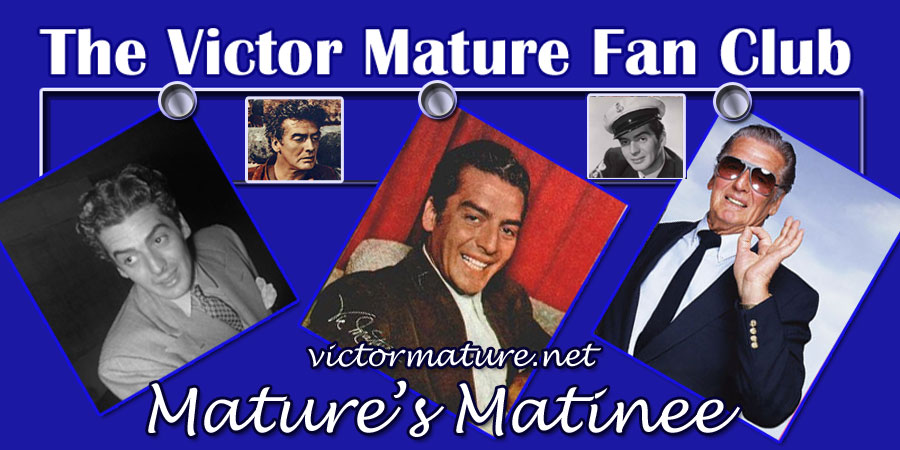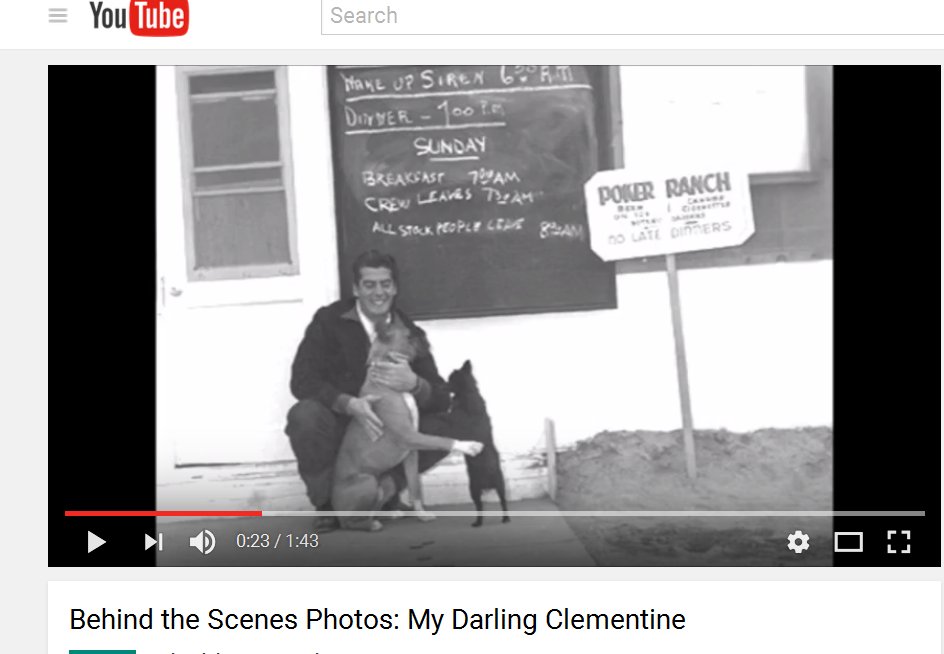 Here is a fantastic Youtube video with rare behind the scenes photos from My Darling Clementine! https://www.youtube.com/watch?v=G1NMsxHxbd4
Also as part of NAU film series: Roger Ebert's Great Movies - My Darling Clementine is being shown -- Sept. 20: My Darling Clementine (1946) directed by John Ford. Starring Henry Fonda, Linda Darnell, Victor Mature. 97 min.
Roger Ebert's Great Movies
The College of Arts and Letters Film Series adopts the recommendations of legendary film critic Roger Ebert to frame the Fall 2016 Film Series "Roger Ebert's Great Movies." The free films screen every Tuesday night from August 30, 2016 to December 6, 2016 at Cline Library Assembly Hall, 7 p.m.
Local film experts introduce each film and series organizers Paul Helford and Paul Donnelly typically lead the post-screening conversation.
Check out these 2 pages for all of the info!
http://azdailysun.com/entertainment/movies/nau-film-series-roger-ebert-s-great-movies/article_e928e63c-7837-5847-9200-3737fea676b0.html
http://nau.edu/CAL/Events/CAL-Film-Series/#4
John Ford, at his story-telling best, brings to life the legend of Wyatt Earp, Doc Holliday and the gunfight at the OK Corral. -- NAU's College of Arts and Letters Film Series opens its Fall 2016 installment of the popular Tuesday night screenings on Aug. 30 with the rarely screened Charles Chaplin 1928 silent film classic, "The Circus," which film critic Roger Ebert called one of Chaplin's funniest movies.
The fall season is a tribute to Roger Ebert, who died in 2013. Ebert was a Chicago Sun-Times film critic and was the first film critic to win a Pulitzer Prize for Criticism. In 1975, Ebert began co-hosting a weekly film review television show with Chicago Tribune film critic Gene Siskel. Over the decades Ebert identified relatively few standout films as Great Movies, which he defined as any movie he could not bear the thought of never seeing again.
The film series offers a line-up that balances well-known audience favorites with lesser-known but critically acclaimed films, as well as a mix of genres, decades and stars.
From the 1940s we present well-known classics by two of American film's most celebrated directors. Billy Wilder's "Double Indemnity" is an early film noir masterpiece. John Ford's "My Darling Clementine" is perhaps the best screen version of the Gunfight at the OK Corral. Less well known is Jean Cocteau's 1946 "Beauty and the Beast," a gorgeous surreal fantasy adapted from the well-known French fairy tale. Ebert called it "one of the most magical of all films."
We are very pleased to present a film that we've wanted to screen for years: 1964's "A Hard Day's Night," starring The Beatles. From the same year we have the film that Ebert called the best of all the Bond films: "Goldfinger," starring Sean Connery.
Our other films from the 1960s are less known but are widely hailed as classics. Orson Welles' "Chimes at Midnight," which Welles wrote and directed, is the film that many, including Welles himself, considered the director's greatest work. Luis Buñuel's icily sensual masterpiece, "Belle de Jour," starring Catherine Deneuve, is a film that Ebert called perhaps the best erotic film of modern times.
For Halloween, we bring you James Whale's "The Bride of Frankenstein," which Ebert called the best of the Frankenstein movies. Next comes a thrilling, but largely overlooked, 1970s detective film, "Night Moves," starring Gene Hackman.
And to get you out of the house on election night, we have the funniest of the Marx Brothers films, "Duck Soup," in which Groucho, as the president of the republic of Fredonia, announces in song, "If you think this country's bad off now, just wait till I get through with it!"
To wrap up the season, we have four films from the 1980s. Two of the films, "Atlantic City" and "Paris, Texas," give us two great European directors exploring universal narrative themes situated in iconic American settings. Lawrence Kasdan's steamy "Body Heat," featuring Kathleen Turner's remarkable big-screen debut, is an 80s update of "Double Indemnity." We end with the multiple Oscar-winning romantic comedy "Moonstruck."
Roger Ebert said, "One of the gifts a movie lover can give another is the title of a wonderful film they have not yet discovered." We could not agree more.
For more information about "Roger Ebert's Great Movies," visit www.nau.edu/filmseries. Weeknight parking behind Cline Library in lot P13 now requires a permit, but community members can get one by visiting the NAU's Parking and Shuttle Services website, and clicking on "Manage My Parking."
Roger Ebert's Great Movies
Aug. 30: The Circus (1928) directed by Charles Chaplin. Starring Charles Chaplin, Merna Kennedy, Al Ernest Garcia. 71 minutes. Not Rated
One of Charlie Chaplin's funniest, and a rarely screened classic, in which "The Tramp" becomes a hit at a struggling circus and meets the girl of his dreams.
~~~~~
Sept. 6: Double Indemnity (1944) directed by Billy Wilder. Starring Fred MacMurray, Barbara Stanwyck, Edward G. Robinson. 107 min. Approved
Billy Wilder's film noir masterpiece about a housewife, an insurance agent, and murder.
~~~~~
Sept. 13: Beauty and the Beast (1946) directed by Jean Cocteau. Starring Jean Marais, Josette Day, Mila Parély. 99 min. Not Rated (in French with English subtitles)
Writer-director Jean Cocteau adapted the traditional French fairy tale as a brilliant surreal fantasy about a prisoner and the lonely beast that wants to marry her.
~~~~~
Sept. 20: My Darling Clementine (1946) directed by John Ford. Starring Henry Fonda, Linda Darnell, Victor Mature. 97 min. Approved
John Ford, at his story-telling best, brings to life the legend of Wyatt Earp, Doc Holliday and the gunfight at the OK Corral.
~~~~~
Sept. 27: A Hard Day's Night (1964) directed by Richard Lester. Starring John Lennon, Paul McCartney, George Harrison, Ringo Starr. 87 min. Approved
A day in the life of the Beatles, being chased by girls and singing their hits, in this exhilarating Oscar-nominated movie shot by Richard Lester in a black-and-white, semi-documentary style.
~~~~~
Oct. 4: Goldfinger (1964) directed by Guy Hamilton. Starring Sean Connery, Gert Fröbe, Honor Blackman. 110 min. Approved
In the third Bond film, 007 is up against international gold smuggler Auric Goldfinger and his silent, deadly manservant Oddjob. Many have played Bond, but no one did it better than Connery.
~~~~~
Oct. 11: Chimes at Midnight (1965) directed by Orson Welles. Starring Orson Welles, Jeanne Moreau, Margaret Rutherford. 115 min. Not Rated
Orson Welles wrote, directed, and starred in this long-lost masterpiece, his adaptation of Shakespeare's stories of Falstaff and his father-son relationship with Prince Hal.
~~~~~
Oct. 18: Belle De Jour (1968) directed by Luis Buñuel. Starring Catherine Deneuve, Jean Sorel, Michel Piccoli. 101 min. Approved (Recommended for adults) (in French with English subtitles)
In writer-director Buñuel's erotic masterpiece, a beautiful young housewife, unsatisfied with her husband and her life, spends her afternoons as a prostitute.
~~~~~
Oct. 25: The Bride of Frankenstein (1935) directed by James Whale. Starring Boris Karloff, Elsa Lanchester, Colin Clive. 75 min. Not Rated
For Halloween we present one of the most acclaimed horror films of all time, in which Dr. Frankenstein creates the iconic mate for his monster.
~~~~~
Nov. 1: Night Moves (1975) directed by Arthur Penn. Starring Gene Hackman, Jennifer Warren, Edward Binns. 100 min. R
Gene Hackman is outstanding as a Los Angeles private detective hired by a client to find her runaway teenage daughter, stumbling into a case of smuggling and murder.
~~~~~
Nov. 8: Duck Soup (1933) directed by Leo McCarey. Starring Groucho Marx, Harpo Marx, Chico Marx, Margaret Dumont. 68 min. Not Rated
For Election Day, in perhaps the best Marx Brothers film, Groucho plays Rufus T. Firefly, president/dictator of bankrupt Freedonia, which declares war on neighboring Sylvania over the love, and money, of a wealthy dowager.
~~~~~
Nov. 15: Atlantic City (1981) directed by Louis Malle. Starring Burt Lancaster, Susan Sarandon, Kate Reid. 104 min. R
Lancaster and Sarandon were Oscar-nominated for their portrayals of an aging small-time gangster and a drug dealer's young estranged wife in this tale of love, money, drugs and danger.
~~~~~
Nov. 22: Paris, Texas (1984) directed by Wim Wenders. Starring Harry Dean Stanton, Nastassja Kinski, Dean Stockwell. 147 min. R
The great Harry Dean Stanton plays a man who wanders out of the desert after a four-year absence in Wim Wenders' American road picture that won the Palme d'Or at the Cannes Film Festival.
~~~~~
Nov. 29: Body Heat (1981) directed by Lawrence Kasdan. Starring William Hurt, Kathleen Turner, Richard Crenna. 113 min. R
Kathleen Turner plays a woman who convinces her lover to murder her rich husband in writer-director Kasdan's contemporary film noir inspired by Billy Wilder's Double Indemnity.
~~~~~
Dec. 6: Moonstruck (1987) directed by Norman Jewison. Starring Cher, Nicolas Cage, Olympia Dukakis. 102 min. PG
This multiple Oscar-winner is a sweet but complex romantic comedy about a Brooklyn bookkeeper who falls in love with her fiancé's brother.